The 2013 Qualified Education Expense Credit Cap of $58 million was reached on May 9, 2013.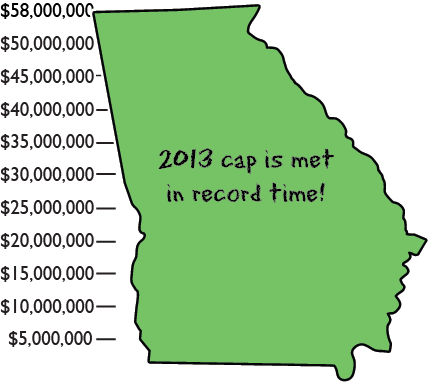 Make your GOAL payment: Pay Online
---
Featured GOAL School of the Week
If you are a Heritage Academy supporter, please send GOAL a greeting to inform us that you have visited our website this week. By doing so, you may help your school qualify for receipt of the GOAL School of the Year Award presented each year to the school that has done the best job building a "culture of GOAL."
Heritage Academy is located in downtown Augusta. Our school exists to meet the educational needs of low-income families, empowering them to become a positive influence for Christ in our community and around the world.
65% of our students live in a single parent family.
10% of our students live with a grandmother or guardian.
90% of our students are African American.
85% of our families qualify for free or reduced lunch.
Our median family income is $17,000/year.
Our GOAL donors are connected to us not as alumni, parents or grandparents. They are connected to us through the heart. They are passionate about changing outcomes for children from families who live at lower income levels and are located in school districts that are failing. Heritage Academy provides an alternative... and opportunities that can change the future of a child by providing a quality, college preparatory, Christian education in a rigorous and nurturing environment.
From a grandparent: "My granddaughter's confidence in her abilities has increased since being at Heritage. Her future goals have become more concrete and been reinforced by her teachers. I have peace of mind that when I drop her off each morning, I will not be called about some incident. We both feel safe. This school enhances our family's Christian values. We need to invest in things that last, like education, not in things that perish, like the latest fad. My child's education is an investment worth making."
Georgia GOAL Scholarship Program
The Georgia GOAL Scholarship Program provides children throughout the Peach State with Greater Opportunities for Access to Learning ("GOAL"). We invite you to discover how, as a qualified student scholarship organization, GOAL is providing scholarships to students across Georgia to attend the private K-12 schools of their parents' choice. As the leading SSO in Georgia, in partnership with 123 participating schools, GOAL is setting the gold standard for scholarship administration. Learn more today!